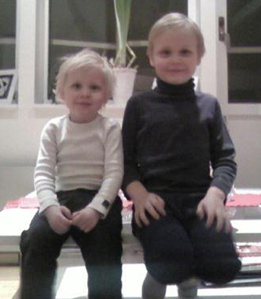 Some time around the end of February/beginning of March 2008, Samuel's illness revealed itself for the very first time. Perhaps it had done so earlier, but it was the first time we saw some clear symptoms. A lack of appetite, a slight increased temperature and somewhat reduced energy levels. After a few weeks the symptoms remained. We went to the Riddarkliniken childrens' clinic who investigated Samuel briefly and took a blood sample, a so-called CRP, the result of which showed 69 (it should be < 10). The doctor said that it most probably was related to a virus and that it was just a matter of waiting until he would become hale and hearty again.
About 3 weeks went by and we travelled up to Åre for a week's skiing. Samuel thought it was great and we had a really nice week together, the whole family. Samuel's learning curve was steep and he made enormous progress on the slopes that week. We, as parents, noticed that his appetite was still poor and that his energy levels weren't what they should be. The symptoms remained.
Once we got back home, we went back to the same doctor at the same children's unit. He once again conducted a brief investigation including a new CRP, this time 73. A new virus the paediatrician told us.We did not feel any confidence in his diagnosis and we went to see our usual paediatrician who hadn't been available previously . A greater amount of tests were taken that showed Pneumococcus and Moraxella and we tried with Spektramox. Samuel went through a course of antibiotics. His appetite improved to a certain degree, as did his energy levels and the fever subsided temporarily (the course ended on April 24, 2008).
At the beginning of May 2008, we sought emergency help at the hospital in Danderyd as the symptoms had come back and the fever had worsened. They undertook some blood tests as well as an x-ray of the lungs. They asked us to return in three days to see how it developed. We went back to the hospital as agreed, but the symptoms still persisted and Kåvepenin (Antibiotics) was prescribed. After three days of treatment, the symptoms had worsened; the fever had now moved into the 38-40ºC bracket. The emergency department at Danderyd Hospital referred us to the Astrid Lindgren Children's Hospital for further investigation. We made our way there the same day and through an understanding doctor, Samuel was kept in for observation and further tests.
On May 12, 2008, the day before Samuel's 6th birthday, we were reached by the unpleasant news that Samuel had a tumour in his abdomen, situated just above his bladder. Our lives collapsed. Samuel celebrated his 6th birthday in ward Q62, congratulated by the ward staff, and staff from the Play Therapy Unit (Lekterapin). Samuel himself thought it was fine, and as a family we appreciated that, but we were in shock.
Two days later, a biopsi was carried out of the suspected tumour and on May 23, 2008, an operation was undertaken where the tumour was removed. It took two months before a definite diagnosis was stated. During this time, the pathologists continued to rule out various alternatives.We were thrown between hope and despair and within a short space of time, we tried to learn all we could about Ganglioneuroma, and Ganglioneuromblastoma and what the actual difference was between the latter and Neuroblastoma. Germcells tumor, Lymphoma, Sarcoma and Abscess were also under discussion.
After two months, we learned that it was a case of Inflammatory Myofibroblastic Tumour (IMT). We read everything we came across in the form of scientific articles and statistics concerning this disease. It looked quite positive, certainly an unusual illness, but extremely rare for it to metastasize and the likelihood for survival was markedly high (90-95%). We discovered early that the main means of curing was through radical surgery (a procedure with good success margins) and that in occasional cases it had even worked to cure the illness with cytotoxic agents and inflammatory preventative agents. Every article ended though by saying that more research was needed within the area of this extremely rare tumor disease.
At the end of May, Samuel was dismissed from hospital, worn out, but with normal CRP, free of fever and with a regained appetite. We were concerned but felt a certain amount of hope for the future. Gradually, Samuel regained his energy levels and on the eve of Midsummer, he dared to get up on the trampoline again!
Was the nightmare over now…?
The night between July 20 and 21, 2008, Samuel had another bout of fever and we immediately contacted the oncologist to try to bring forward the next Computer Tomography-scan (CT-scan). After two weeks of fever, an ultra-sound assessment was undertaken which showed several new tumors in his abdomen. Treatment with Cox 2 inhibitors and anti-inflammatory treatment (cortisone) was introduced, with possibly a little success. The CRP went down, the fever subsided, and the tumour mass had stabilised.
It turned out that Samuel was the only case in Sweden with IMT at that time, (there was possibly a boy with IMT in Uppsala around 25 years ago). We then began to make our first contact with specialists on the disease in other parts of the world, This was because the Swedish doctors themselves recognised that they didn't have the knowledge or expertise about this specific illness.
New discussions with the surgeon. They said that the next surgery would be undertaken with good margins of success. Consequently, a new operation was carried out on August 19, 2008, unfortunately without those margins in certain areas.
About a week after the operation, a new tumour was discovered in the omentum. It was now that the surgeons started to argue that they could no longer control Samuel's disease with surgery alone. They now handed over the responsibility of treatment to the oncologists. Both parties (the surgeons and the oncologists) strongly advocated a systemic course of treatment rather than further surgery alone. We allowed ourselves to be persuaded, and in the beginning of September, Samuel started on chemotherapy treatment at the children's ward, Q84.
The first meeting with ward Q84 felt quite surreal. Samuel was upset that he couldn't continue to be on the Q83 ward, whose nurses he had both got used to and liked so much. As parents we were really moved by meeting all these ill and bald children who were walking and running around with their drip stands. Not because they were sick and bald, but rather in the knowledge that our child was now one of them. The sense of unreality lingered on for a couple of days and we couldn't manage to leave the room but for the most urgent cases of necessity. Samuel and his dad buried themselves in the Super Mario Brothers on the Nintendo DS and managed to reach many new levels during those days. After a while, we recognised most of the children and the parents on the ward. It was a small group of children being treated there. Some children didn't make it, some were cured and about just as many new children arrived. That was pretty much how it was. It's a lovely little ward which is permeated with sorrow, but you can't see it on the surface.
Samuel began his first course of chemotherapy treatment, in combination with the Cox 2 inhibitors and cortisone and after a month, the tumour which he had in the Omentum could no longer be seen through the CT- scan or on the ultrasound. Fantastic! Did this now mean that we had brought the disease under control and that we would just round off the current course of treatment and then to go on to monitoring?
Treatment continued as planned and towards the end of the nine-week period, which the treatment was expected to last, a new tumour was detected alongside the pancreas. The tumour was situated in an awkward position and the surgeons felt they could not operate and suggested that it primary should be treated by chemotherapy drugs to reduce the size of the tumour. The oncologists went along with this, but first they wanted to be sure that it was still the same type of tumor that they were dealing with. A biopsy was taken using laparoscopic surgery. It proved, of course, to be IMT.
A fresh and rigorous course of chemotherapy treatment commenced at the end of November. The Q84 ward was now getting very familiar to us. The treatment wasn't that simple. Samuel had recurrent infections between the courses when his blood values were low. Most often, the tests for infection didn't register anything, but intrevenous antibiotics were always administrated as a precautionary measure. We now spent around 45-50 days in every quarter at the hospital. We all longed to go home to the house, to our beds, bathroom and homemade meals.
During this time the creative workshop, the clowns, the play therapy crew and Linda, from sibling-support , became more and more important. It was great to have them there!
The treatment Samuel received managed to decrease the tumors considerably so that surgery, once again, became a possibility. Samuel was operated in February 2009, "probably", as the pathologist put it, not a radical removal of tumour even on this occasion.
A new tumor was detected in the mesentry about a week after the last operation was carried out. With two courses left of his treatment, which commenced in November, we had now arrived at the beginning of March 2009. Plans began to form in our minds to have the surgery carried out at a hospital where they had experience of dealing with this specific disease.
Personal contacts and relatives in the USA lead us to a professor in children's oncology at the Mayo Clinic. It was the leading hospital in America with respect to surgery and they had experience of dealing with Samuel's disease.
By the end of April, we travelled to the Mayo Clinic in Rochester, Minnesota. Once we were there, they asked us if they could carry out a CT-scan again, as the images we had taken with us from Sweden proved to be of much lower quality than they were used to working with. This turned out to be true. The Swedish images showed a tumour situated like a ball in the mesentry, whereas the American images showed the same tumour but with strands, reminding of the rays of the sun.
Samuel undertook surgery in the USA at the end of April. The various stages of the operation could be followed on a screen in the waiting room. It was wonderfully reassuring for relatives to the patients who were waiting. Furthermore, the surgeons there operated with pathologists working in an adjoining room and the surgeons didn't get the green light to "close" the patient until the operation was deemed to have radically removed every tumor, if it proved to be possible. Unfortunately, they still do not have this at the Astrid Lindgren Children's Hospital in Sweden, which is a great pity. In Sweden, you only receive the pathological assessment 5-10 days later, a little late to know if the operation was a success or not. The operation in America was extensive, but the tumor was removed radically. Samuel had to spend a week at the hospital. One of the American surgeon's main fears was, however, that the previous surgical procedures may have spread the disease so that it had now spread to several areas of the abdomen than just where he had been operating. Samuel recovered quickly, he adored the USA, the doctors, the hospital, Rochester, his family and above all, he loved life… Love was coming from every direction and we made easy contact with people both in and outside the hospital. Some further appointments meant that we had to stay in Rochester for another week.
During the second half of May, we were back in Sweden, and the first tests suggested that there were no more tumors. The joy was short-lived. Bythe end of the month, a new tumor was detected at the falciform ligament (by the liver). The cells had spread in the abdominal cavity, the fears of the American surgeon had proved to be founded. New treatments with low-dosage chemotherapy drugs were introduced. In October, Samuel started to get problems with ascites (fluid in the abdomen) and during the end of the month, Samuel's appetite deserted him so much so that we were compelled to put him into hospital.
His condition went up and down, but the surgeons in Sweden didn't want to operate to remove the tumors before the oncologists had found a viable remedy. A "Catch 22" situation had emerged. Samuel's abdomen was punctured in several places to drain the abdomen and in the middle of November, he began a new course of chemotherapy treatment which proved to be successful, but unfortunately toxic for the kidney. Even if Samuel's general condition had improved by the treatment, we couldn't continue with it due to the above. This was decided upon during the first week of December. The second week in December, he began a treatment of low-dosage chemotherapy drugs, while at the same time, in consultation with an American doctor, we all decided to try out a medicine which wasn't chemotherapy and which previously proved to be very successful in studies on these particular types of solid tumors (which Samuel had).
The American doctor herself got in contact with the Swedish oncologists in order to provide them with information about the treatment. Perhaps it would be our salvation? All the scientific articles indicated that IMT, which Samuel had, did not always respond to cytotoxic treatment. Samuel started the new treatment and responded very well according to blood samples.
Samuel's ascites meant that he had to be treated with oxygen as the abdomen pressed into the lungs (preventing the lungs from working at their full capacity). All the other organs were working well, according to the test results. In addition to this, he did not have any metastasis on other locations!
On being treated with oxygen, it can happen that the body has difficulty in expelling carbon-dioxide. This occurred on Saturday evening, December 19, 2009. It took one and a a half hour before an anaesthetist arrived. Unlike the previous anaesthetists we had met, Samuel had the misfortune that evening to have a really cold-hearted one who declared himself to be responsible for the childrens' intensive care unit. This doctor refused Samuel respiratory care and non-invasive ventilator care, although he knew that Samuel, in all probability, would die if he didn't receive this help.He refused to review the limitation of treatment which were signed twelve days earlier, this despite the fact that we pointed out that Samuel had commenced a new course of treatment which had shown good results! A decision of such vital importance is consequently taken by a doctor who had neither met Samuel nor his parents ever before. On being asked the question that we put to him, the doctor couldn't even say which illness Samuel was suffering from!
Samuel was conscious a long time and understood that he could die when he heard the doctor's refusal to offer respiratory care. As his parents, we offered to certify in writing that we would voluntarily ask the staff to switch off the respirator if Samuel were to remain unconcious and if he no longer responded to the new treatment after 48 hours, but the answer was NO!
Samuel's fight to breathe went on for 8 hours. The oncologist on duty tried to persuade the anaesthesiologist, in spite of everything, to help Samuel, but it was to no avail. Samuel died on December 20, 2009 at 01:45 am. If Samuel had got the respirator and not come out of this then he would at least been able to to have been anaesthetised and not choked to death. After all of his bravery and fighting spirit he wasn't allowed to die in a dignified and peaceful manner. Samuel, if someone, deserved to do so. We hope that no other child will suffer the way that Samuel did and hear what he had to hear during his last hours alive!
We don't believe that anyone can truly understand the absurd and awful situation unless it has been experienced. You are in a hospital because your child is ill. There are (one would hope) resources to help the child. The child has on-going treatment which appears to be working well. The child has fought his illness for one year and nine months only so that one Saturday evening he meets a doctor, not familiar with the case, who refuses him care right up to the last.
Respiratory care would have given more time to bring in the usual medical team in order to get a more composed judgement concerning something as serious as a child's fight for life. Respiratory care would have been able to make it possible for a possible recovery with the aid of newly introduced treatment, but above all …respiratory care would have enabled a more humane departure.
The doctor choosed instead to act independently, without giving due consideration to the child's long struggle. The doctor choosed to disregard automatically the fact that treatment limitations ought to have been suspended upon the introduction of a new course of treatment. On his own initiative, the doctor also made decisions with regard to extending the treatment limitations, without even having logged into the patient's case file or having met the patient before. And if even this wasn't enough, the doctor choosed to disregard the fundamental responsibility, to give the boy and his parents a dignified and painless departure as possible. Samuel's, and our own rights, were violated to the utmost.
We will never accept this doctor's inexplicable and heartless behaviour. He will forever come to symbolise the concept of evil to us. Boundless grief will for ever be clouded by deep anger – quite unnecessarily.
As parents, we had nothing to say of influence, although it concerned OUR child. Our faith for some of the medical staff and the ethics at the Astrid Lindgren Children's Hospital are, after this, non-existent. How can and may a doctor, who has never met a patient and who hasn't even logged into the patient's file decide when it is time for this patient to die?
Our beloved Samuel was dead. We laid there beside him until six in the morning when we carried ours and his belongings down to the car. Samuel was moved to a private room where Samuels's nearest and dearest came to say their goodbyes. During the whole course of his illness, we had many times thought of how awful it must be for parents to lose their children. What anguish must be associated with it and how they could bear to carry on? We have seen so many such examples during Samuel's period of care. Now we were one of those families, with feelings which just cannot be expressed in words. Samuel's body, which had been warm earlier, full of life and joy despite difficult moments at times, was now cold and still. It was so obvious that his soul was no longer in his body. It was like an empty shell…
Samuel was brave up to the last. The truth was that he never moaned about treatments or surgical procedures, he did it as if he knew or believed it was necessary. He never moaned either when his energy sapped, he just changed his activity to something less strenuous. He wanted to live so much, he said that several times, both to us and to the staff in ward. His only wish was taken from him, four days before Christmas Eve and we, his parents, couldn't do anything, we were completely powerless!
Nothing can bring us Samuel back, but we hope that Samuel is aware that we are fighting on his behalf, for redress and that we have started a foundation in his name so that his illness one one day can be defeated. There are many who think of him and support us.
We want to mention that during Samuel's period of illness, there were several people, besides the family circle and friends, who came to mean an enormous amount to Samuel, his little brother Max and us, his parents. Among these, there are several nurses and assistant nurses on ward Q83, Q84 and Q62 and also a psychologist, a sonographer and some pathologists and doctors both in Sweden and in the USA (they know for sure who they are).
Towards the end, we were in contact with Dr Dana Flavin. A wonderful person who right up to the last, fought with Samuel. We could contact her, day or night, if there was something on our minds. To save the life of a child means more than anything to her and that's the way it ought to be for every doctor if the child WANTS to continue fighting to survive!
We also received a great deal of support from Dr. Eric Mayer (USA) who gave us good advice and showed an enormous amount of consideration and warmth, as well as Dr. Maciej Pruszczynski (the Netherlands), pathologist and friend of our family, for him being so close to us throughout the time of Samuel's illness, for his support to us all, for his commitment which was over and above the norm and for his wise, encouraging thoughts and points of view.
These people will be enormously important to us, as long as we shall live.
---

Some reflections regarding the care and the conventions that Sweden has pledged to follow.
When we now look back on the chain of care as a whole, we realise that there are enormous deficiencies. The largest deficiency in Samuel's case was the lack of commitment and iniative on the part of the doctors, to develop and find a scientific basis themselves for the treatment of this illness. All the articles which related to IMT were found and handed over to the doctors by us, the parents. Even the contacts with doctors abroad who had expertise in this disease were instigated by us. Is it really the task of the parents to devote all of their time awake to search and find a cure for their child? We didn't have any choice however, as we realised that the doctors themselves were not going to take this initiative.
Another deficiency was that Samuel never had a doctor with sole responsibility for him. On several occasions we were informed that in the childrens' oncology department, all the doctors share the responsibility for a patient. This meant that in every meeting with the doctors, we had to repeat everything that had been said previously and agreed upon. Questions which we put and which we awaited answers for were never answered. When given a question, each doctor said that they would "come back to us on this", but as it was a different doctor we were to meet the next time, he would have no idea about the question we had asked and even less could he or she come up with an answer. It was only when the oncologist in America wanted to have a single contact person in Sweden that we finally got a name of the one, according to the case, who would be Samuel's attending doctor. Unfortunately, he was never available. We questioned this system several times and received the answer that this was the only option they had, as there were so few and that the majority of them were carrying out research work alongside their usual work on the ward. Consequently, a perfect arrangement for the children's oncologists but wretched for the patients when nobody takes responsibility.
Throughout the time of Samuel's illness, the responsibility was juggled between the surgeons and the oncologists. There was no co-ordinated team of doctors who took full responsibility for the care of Samuel, which would have been the only reasonable course. There prevails a clear breakdown in communication between the various doctors and wards as well as between the patient/guardian and the doctor. Each meeting held with the doctors was under time preassure.
A desire for prestige, an autocratic attitude, a lack of humanity and empathy prevail too much for this hospital to operate well.
Finally, we would like to mention the part of the obligations which Sweden is to fulfill, according to Article 2.1 of the European Convention for Human Rights and the Fundamental Freedoms.

"Everybody's right to life shall be protected by law". 
Samuel's right to life was not protected by law. As there is no legal basis regarding decisions of limitations of treatment.
and
The Convention on the Rights of the Child, Article 24.1
"States Parties recognize the right of the child to the enjoyment of the highest attainable standard of health and to facilities for the treatment of illness and rehabilitation of health. States Parties shall strive to ensure that no child is deprived of his or her right of access to such health care services."
Samuel was deprived that right on December 20, 2009.