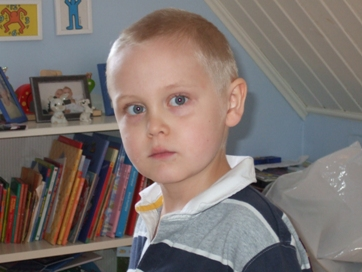 Samuel was born on May 13, 2002. One of the happiest days of our lives. Despite the fact that May can be quite a grey month in Sweden, the sun shined extra brightly that day. Nasdaq (our pet Pug dog)  was at first a little sceptical, but after a quick sniff,  Nasdaq and the new family member became friends for life. As a baby, Samuel was quite lively. He had cholic for a few months, but it was resolved quickly when he at the age of 4 months was allowed to try "real" food. The years passed and Samuel eventually began nursery school. Lärkans Musikförskola (Lärkan's Music Nursery) which is a fantastic parent run co-operative with unbelievably skilled educationalists. Samuel found many new friends; Esmeralda, Fred, Erik, Simon, Nona, Lovisa, Siri, Noel, Elsa, Tom, Nils, Wille, Alice, Pontus F, Kasper, Pontus P, Pascal, Tea, Betty, Linnea, Olivia-Li and Lina, a wonderful group! The choice of nursery school was obvious. From an early age, we could see that Samuel took an enormous interest in music. If he didn't go around humming himself, then he would leave his record player on, playing his favourite songs all day long…
The years went by and Samuel's interest in music remained. His favourites were Caroline af Ugglas, The Ark, Nordman and Martin Stenmarck. Somewhat odd for a child, but that was Samuel. He was special. He didn't miss a single Eurovision Song Contest since the age of 4. In his determination he voted several times in order for the "right" song to win. When Samuel was 5 years old and the family went on a skiing holiday to Åre. In the car to Åre (and on the way back) he played Nordman and The Ark continuously. In the end, not only did he learn all the lyrics, but so did his little brother and his parents! Then came the track "Snälla, Snälla" with Caroline af Ugglas. Eureka! He played it over and over again. Every time these songs are played on the radio, the memory of Samuel makes itself so obvious. It hurts, but at the same time it makes you smile. He really loved these songs. One day he was going to participate in the Eurovision Song Contest, he was quite clear about that. His plan was to begin with the junior Song Contest, as soon as he was old enough. Many artists visited the hospital and he once took the opportunity to ask Martin Stenmarck about how to become a pop star.He received a wise answer and now it was just a case of following that path.
Thanks to the foundation "Min Stora Dag" (My Big Day) he got the chance to go to the Globe arena in Stockholm to see the final in 2009. He was completely ecstatic! We promised him that we would go to Norway to see the final in 2010, but unfortunately it wasn't to be.
Samuel was a child with many interests. He loved to ski, play tennis, dance at Lasse Kühlers dance school, travel, prepare and eat food. His favourite restaurants were the Bamboo Garden in Åsögatan and Il forno da Pino on Sveavägen, both offering really good food and had a very nice staff. At home, he would track down recipes on Tastelines or Arlas website. These recipes were not always easy to follow, but he was always there with a helping hand. He loved new flavours and very spicy "adult food", which was very practical for us parents, especially when we travelled abroad.
Samuel became ill when he was 5 years old. The day before his 6th birthday, we were told that he had a tumour. From then on life turned in a totally different direction for the whole family. He continued to go to nursery school, to the extent that he was able to. He learnt the letters of the alphabet and to read completely on his own. He found comfort and escape from reality in his dog, Nasdaq, his books about Lasse Maja's detective agency as well as family and friends who visited him in the hospital. The neighbour's girl Ava and her family, who had recently moved in, came to mean a great deal to Samuel in his last year. He even found new friends at the hospital, many of whom are with him now in Heaven. He found his biggest comfort, however, in his little brother Max, who he wanted to have with him at all. It was a mutual feeling!
Another big interest of Samuel's was computers. We really hope that they have an Internet connection in Heaven. What would Samuel do without CDON and Tradera? That was where Samuel found all his CDs and DVD films and, of course, his Gormiti figures. By this time, everyone at the hospital was very well acquainted with Gormiti. Small Italian plastic figures which can be found in various series. Some are evil, some are good. One day, when we counted his Gormiti collection, we came to the unbelievable figure of 300!!! In addition to these, there are also Gormiti cards and Gormiti caves which Samuel also collected. Playing with Gormiti with his little brother was his favourite activity. The good guys always won, if Samuel was allowed to decide.
Since a large part of Samuel's time between the age of 5 and 7 were spent at the hospital, we got him a Nintendo DS. A countless number of games are available to go with this, but the favourites were the Super Mario games. What made Samuel very happy was that some of the nurses were very familiar with the games and played with Samuel during the lunch breaks. Something Samuel really appreciated ( Thank you Sara!). Samuel was a very skilful player so he beat most people, even Sara. It was Sara who also got to hear Samuel's definition of happiness, a long exposition which moved us all to tears.
Sometimes during his illness, Samuel had spells of good health. He started his 6th year activities and then school. The wonderful French School where Samuel was so happy! He was so proud the day he started school, to meet new friends and new fantastic teachers. The understanding and the support he received from the school staff and his friends meant a tremendous amount to both Samuel and us parents. He talked about school every day while at the hospital. Unfortunately the treatment and the medical examinations prevented him from attending school on a regular basis, something that made him very sad. All he wanted was, of course, was to be a "normal" child, as he himself expressed it. Life can really be unfair. With his sharp intellect, his good memory and his good sense of humour amidst all the misery, Samuel would certainly have become something big. Of this we are absolutely certain! We know that there are many in his school that miss him. They should all know that he missed them terribly (all of class 1B in 2009).
Samuel spent much of his time with his respective grandmother, grandfather and Sten as well as uncle Peter, aunt Katti and her family. They all came to mean a great deal to him. Their loss of him is also enormous. Together with them, he had a free hand to do what he liked, which of course he appreciated….
Samuel's life was all too short. He had so much more to give, but as a wise man in our circle of friends said (Paul Heller); "Samuel's soul didn't need to spend so long on this earth as he had already performed his duty. God has, for sure, bigger things in mind for him now!"
Without a doubt Samuel, that must be it!